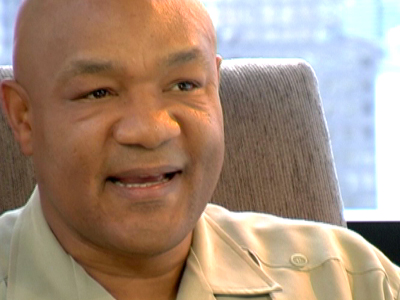 You've read the title right, former two time heavyweight champion and Hall of Fame Boxer 'Big' George Foreman thinks Manny Pacquiao is the best fighter out there at this time. On an interview he had with Geoffrey Ciani, George Foreman speaks about what he thinks of boxing and boxers these days. Foreman is pretty much disappointed on the Heavyweight division today saying that he doesn't like the Champions and the Stars on the division where he used to play. Here are some of the Question by Geoffrey Ciani to George Foreman.
CIANI:

George, I'm curious, do you currently still follow the heavyweight landscape today and if so, what do you think about the heavyweight division today and some of the top guys out there like the Klitschko brother?




FOREMAN:

For the first time, and I hate to use the word, but disappointed I am. The heavyweight division is just about dissolved. There's not much to offer and I'm hoping my son coming back, George III, will start provoking other athletes to say, 'I can beat that guy, I can beat that guy' and the United States might have some good boxers. I'm not happy at all with the heavyweight division. I don't like the champions, I don't like their styles, and I don't even like the contenders who challenge them. Nothing is going on in the heavyweight division. All the life is in the lighter weight divisions. This Pacquiao is the star of the day. Pacquiao is the best fighter out there.
CIANI

: Now in addition to Pacquiao, who are some of the other guys out there right now that you do enjoy watching in some of the lighter divisions?




FOREMAN

: I like Mayweather as well, Floyd Mayweather, but that's about the size of it. There are so many others who are equally as good out there but the cream of the crop is that Pacquiao. I just love him. He works out, he trains, and he doesn't say a whole lot so after his fighting career is over he'll be known for what he accomplished and not what he said.
CIANI

: Now George, you mentioned Pacquiao and Mayweather there. The fight that every boxing fan wanted to see was a mega bout between Manny Pacquiao and Floyd Mayweather and now, unfortunately it doesn't look as if we're going to get that fight this year. I'm wondering, (A) do you think we'll ever get that fight and (B) how do you see it playing out if that fight does get made?




FOREMAN

: Well it's one of those fights that I hope never happens because Pacquiao doesn't need Mayweather in his life. It'll be one of those life changing experiences for Pacquiao, especially. For instance, I didn't have to fight Muhammad Ali. I really didn't have to take that fight. I took the fight and it turned into more than just a boxing match. It became a political statement, one way and the other, and today we're great friends but if I had to do it over again, because of all the other sprinkling on the pies, I never would have taken part in such a fight. I think Pacquiao had a nice name. Mayweather started to slander him, say things like he was taking drugs. When you start running into people like that, it's best that you stay away from them. It's not even necessary to even have them in your life. But if the fight does take place, I think that Pacquiao wins because he's got the momentum, he has a real trainer, and he's willing to take the fight. He'd probably beat Mayweather, probably. Not to say Mayweather isn't a wonderful fighter. He is the best fighter I've ever seen in my life, but he can't beat Pacquiao because there is something else going on in that fight business. Not the X's and the O's, but there's something else.
For more Information about the Interview click

On the Ropes Radio.