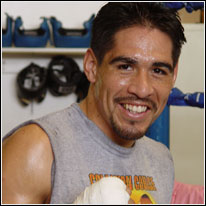 Antonio Margarito is very happy that Texas had given him a license to fight Manny Pacquiao on their bought this coming November 13. The 32 year old Tijuana Tornado standing 5'1" has a height advantage over Manny "Pacman" Pacquiao. He is very positive that he is going to win the fight for he is four inches taller and bigger than Manny Pacquiao, "I will beat Pacquiao" said Margarito.
What are your points of view on this fight? Pacquiao is now known as a Giant Killer from his outstanding performances against bigger boxers such as Oscar De la Hoya, Miguel Cotto and Joshua Clottey. Can Pacquiao handle Antonio Margarito's punches? We'll see about that, now with out the plasters. Can Antonio Margarito handle Manny Pacquiao's speed? Many of boxers who have fought Manny Pacquiao said that it's his speed that Margarito should be concerned about.
Mark your calender for Manny "Pacman" Pacquiao's next fight on November 13 against Tijuana's, Antonio Margarito. I am sure it'll be an exciting and explosive fight. With both fighters style on the ring, it'll be fun to watch.