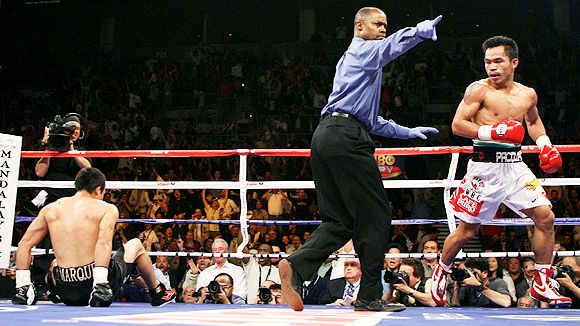 Manny Knocks down Marquez in the 3rd round of their second bout.
Recently Manny Pacquiao has been busy doing duties as a Congressman in Sarangani. But it doesn't mean that he ain't going to fight at this moment. He usually leaves all the fight to his promoter. If the decision has been made by his promoter, then he'll gladly take the fight.
Juan Manuel Marquez and Juan Diaz squared of on the ring days ago. Marquez won the fight and just like he always do, calls of Manny Pacquiao as what he said on his press Conference after his fight with Diaz. Marquez has always been chasing Manny to have that 3rd bout. He believes that he won their second fight with Pacquiao that ended with a split decision favoring the Filipino Pound-for-pound king Manny "Pacman" Pacquiao.
Jeng Gacal, lawyer of Manny Pacquiao said that Marquez is out of the picture as of this moment. Pacquiao's camp is busy with their up coming fight on November 13 against Antonio Margarito. Gacal also said that if Manny favors to fight Marquez for a third bout it has to be at 140, "Manny will find it hard to trim down to 140 now," Gacal added.