The Tijuana Tornado was once known as a dangerous fighter in the ring, but everything had changed since his bout to Sugar Shane Mosley. He was knock out on the 9th round and was even caught with an illegal plaster on his gloves before the fight started. With or with out the plaster, do you think Antonio Margarito still has the hype and the power to knock out Manny Pacquiao?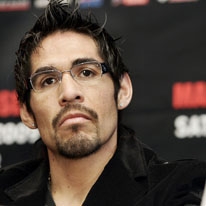 As we all know, boxing is a thrilling sport. Anyone can bring down his opponent if he can get a lucky shot. That is what they are trained for. Margarito is a taller fighter against Manny Pacquiao, standing 5'11" while Manny stands 5'6". So definitely, Margarito can knock Manny out when he gets the chance. No doubt about it. Margarito's strength is stronger than Manny, for he is much bigger and taller. But Manny's strength and speed is another factor. Manny Pacquiao has proved some spectators and guru's wrong. When he stepped up to canvas with a bigger weight class. They thought Manny's speed and power would not stay the same, yet Manny prove them wrong. He has win over bigger and stronger guys who have been dominant in their weight class, namely, Oscar De la Hoya, Ricky Hatton, and Miguel Cotto. All these fight ended with a knockout.
As Manny Pacquiao faces the tallest opponent through out his career and aims to win his 8th world champion belt, surely Manny will give it his best shot. Manny Pacquiao has 12 winning streak since he last loss to Eric Morales.
On the other hand, Mexican figher Giovani Segura 25-1-1 with 21 KO's a WBA junior flyweight Champion said that Antonio Margarito can knockout Manny Pacquiao. Here is a video from
Fanhouse.com
an interview with Giovanni Segura. Segura's last fight was against Puerto Rican boxer Ivan Calderon. The fight ended with a huge technical knock out in the first round.