Are you a superstitious person? Well if you do, then you definitely know that 13 is an unlucky and evil number as what others may say. All depends really on what you believe right? But do you notice every Manny Pacquiao and Floyd Mayweather Jr. negotiations? Both fights are dated on the 13th and both ended up with replacement fights.
The first time both boxers should meet was on March 13, 2010. Do you still remembered that time? Where Floyd Mayweather Jr. wanted Random Drug testing that forced Manny Pacquiao to say NO. Psychologically, Manny Pacquiao thinks he would get weak if blood is taken from his body before the fight. Mayweather believes that Manny was into Performance Enhancing Drugs or is well known for steroids. That is why he wants it or is it just Floyd's way of avoiding? This has been the never ending allegations between both fighters. Pacquiao thinks that if he agrees to the request Mayweather will have an advantage in the fight mentally. Mayweather loves giving his opponents mind games. His a wise man.
The fight was then canceled. Manny Pacquiao had to face a different opponent, Joshua Clottey in Dallas Cowboys Stadium. Manny was victorious of the fight. Leaving the Ghanaian warrior covering up every punches coming from the Filipino Champion.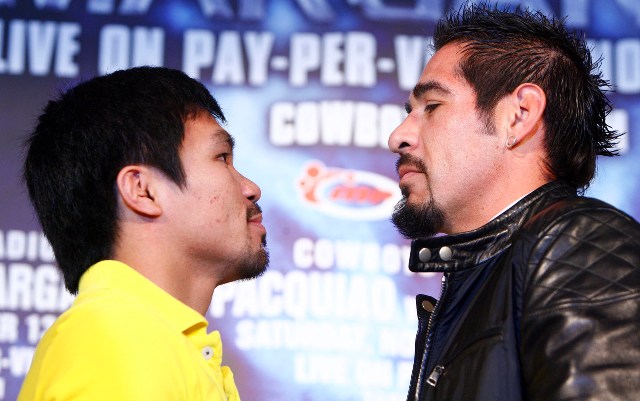 Then the second attempt came which is set on November 13, 2010. Another date set for the said to be the fight in boxing history, Pacquiao-Mayweather. People were thinking that it would happen this time for different news and speculations coming from Bob Arum, Pacquiao's promoter and HBO boxing that they have been contacting with Golden Boy promotions. Fans where waiting for Mayweather's call and Manny Pacquiao had already agreed with the Olympic Style Drug Testing. Arum even gave Mayweather a deadline date for Mayweather to sign the contract for the fight.
Yet, with much surprise, it was all frustrations. Floyd Mayweather Jr. was denying the fact that negotiations were taking place. From Mayweather's statement it made Arum and HBO lier's. It was a big disaster, a very controversial issue that ended up Mayweather losing. From his actions being done, it became obvious to most people that he was avoiding to fight Manny Pacquiao. With every allegations pushed to Mayweather, it has cost him his reputation. Then it ends again.
Now we have another fight on the 13th of November, a replacement fight. As usual, Manny Pacquiao doesn't say no to any fight as long as it is in his weight class. The said fight is against Antonio Margarito. The Tijuana Tornado now has the chance to redeem himself from his controversial boxing career. The former Champion was involved in an illegal hand-wrapping case with his fight with Sugar Shane Mosley. Yes, its frustrating to hear about it. People are even saying he doesn't deserve any chance. Well this is better than no fight at all. And guess what? the fight will take place in the Dallas Cowboy Stadium, again!.
Would you consider it Ironic that the fight will still take place in Dallas Cowboy Stadium? Well, we have no choice, Margarito was only granted in Texas for his license and that is the main reason for it. What about the date 13? If Pacquiao-Mayweather will have its third attempt, how about if we set it on another date except 13, would think that would make any difference? Well, if Floyd Mayweather Jr. really wants to fight, the Place and the Date wouldn't matte,. right? If he really wants the fight? He could have it anywhere and in anytime.
So much for Bad luck. Let us just hope that Mayweather will clear up his mind for it is all up to the guy. Manny is willing to fight the him and it is him that has problem with the fight. Right? So like old times, well have to be patient again for next time.